Forgiveness Book Reviews
 Inspiring Forgiveness: Poems, Quotations, and True Stories to Help with Forgiving Yourself and Others
By Barbara Bonner
This book powerfully tells the true stories of real-world people—from the Dalai Lama to Congressman John Lewis and others—who have endured great pain at the hands of others but who have found ways to open themselves up to forgiveness in its many forms.
Each of the book's stories skillfully outlines how the lives of those people were changed forever by forgiveness—and how yours could be, too. But it doesn't end there. The book is  packed with poems that speak to forgiveness and it includes a collection of more than 100 inspiring quotations.
Unlike many books, this one actually fulfills its title admonition of inspiring the great healing potential of forgiveness in all our lives. Perhaps author Barbara Bonner summarizes it best on her website:
"Forgiveness asks us to open our hearts to those who have wounded us, offering the chance to them and to ourselves to begin again. It is a process, often a slow one, of trial and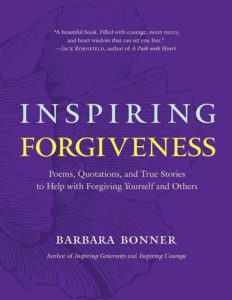 error, requiring practice and great patience. Yet with even the smallest shift in how we look at the offense or the offender, our orientation can change and leave us standing in a new place without carrying any hatred in our heart."
Bonner began her professional career as an art historian. With a MA in art history and a MFA in Arts Administration, she researched and authenticated old master paintings for several prestigious museums. She quickly discovering she also had a natural talent for fundraising which led her to become a fundraising and management consultant for nonprofits—like the 90-year-old private liberal arts college in Vermont where she oversaw early implementation of a $100 million capital campaign and like the world's largest Gothic cathedral in New York.
For the past seven years, however, Bonner has devoted her life to writing three inspirational books: Inspiring Generosity (2014), Inspiring Courage (2017), and Inspiring Forgiveness (2020).  Those projects have inspired her (pun intended) to connect and speak with individuals and groups all over the country for whom those subjects resonate deeply. When not consulting or writing, Bonner lives in a converted barn in the Berkshire hills of western Massachusetts.
Learn more about the book and browse reader reviews.
---
 The Gift of Forgiveness: Inspiring Stories From Those Who Have Overcome the Unforgiveable
by Katherine Schwarzenegger Pratt
The eldest child of actor and politician Arnold Schwarzenegger and broadcast journalist Maria Shriver, Katherine Schwarzenegger Pratt decided to write this book after struggling with how to forgive a friend who she had a falling out with. She tackles the subject with compassion and empathy and offers guidance on how to learn about and participate in feats of forgiveness.
"Forgiveness can feel like a betrayal of our own hurt," according to Schwarzenegger Pratt, a New York Times best-selling author. "When we learn to embrace forgiveness, it opens us up to healing, hope and a new world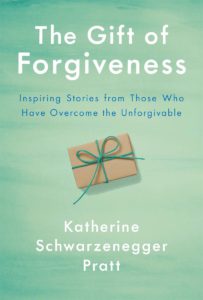 of possibility."
The book features in-depth interviews with people who have let go of resentment under unfathomable circumstances. These people include kidnapping victim Elizabeth Smart (who forgave the couple who kept her captive for nine months when she was only 14-years-old), Chris Williams (who forgave the drunken teen driver who killed his pregnant wife and two of their children), and more than a dozen others.
Look inside the book and browse reader reviews.
---
Aftermath: Picking Up the Pieces After a Suicide
By Gary Roe
Suicide deaths in the US have increased by 33% since the year 2000. More than 47,000 died by suicide last year—an average of more than 130 people every day; one every 11 minutes. We lose 20 veterans a day to suicide. The current fastest-growing suicide demographic is ages 10-14.
Those sobering statistics from Aftermath: Picking Up the Pieces After a Suicide address the reality we face today. The unthinkable has happened. What do you do?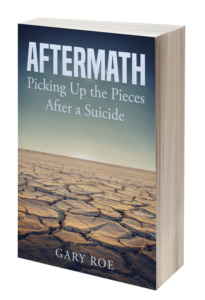 Reach out and grab the hand of multiple award-winning author and grief counselor Gary Roe. Let him walk you through this uncharted, forbidding territory. You need a companion who can be a source of comfort, perspective, hope, and healing. This book (and its chapters on Anger, Rage, Forgiveness, and 81 other to-the-point subjects) will help you through the aftermath and help you pick up the pieces and begin to rebuild your heart and life.
Gary Roe is a multiple award-winning author, speaker, grief specialist, and hospice chaplain. Author of more than a dozen books and over 600 articles, Roe has been featured on Focus on the Family, Dr. Laura, the Christian Broadcasting Network, Thrive Global, Wellness, Belief Net, and other major media. Get his free Ebook Grief: 9 Things I Wish I Had Known.

Learn more and see the complete Table of Contents.
---