Our Team
Dr. Robert D. Enright, Ph.D.
Co-founder, International Forgiveness Institute
Dr. Robert Enright is the unquestioned pioneer in the scientific study of forgiveness. He has been called "the forgiveness trailblazer" by Time magazine and is often introduced as "the father of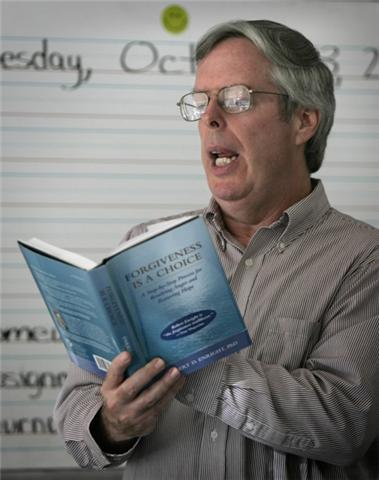 forgiveness research" because of his 35-year academic commitment to researching and implementing forgiveness programs.
Dr. Enright is the author or editor of seven books, and over 100 publications centered on social development and the psychology of forgiveness. He published the first social scientific journal article on person-to-person forgiveness and the first cross-cultural studies of interpersonal forgiveness. He also pioneered forgiveness therapy and developed an early intervention to promote forgiveness–the 20-step "Process Model of Forgiving." The Enright Forgiveness Inventory, now used by researchers around the world, is an objective measure of the degree to which one person forgives another who has hurt him or her deeply and unfairly.
A professor of Educational Psychology at the University of Wisconsin-Madison, a position he has held since 1978, Dr. Enright previously taught at the University of Minnesota and the University of New Orleans. He is co-founder of the International Forgiveness Institute, a not-for-profit organization dedicated to the dissemination of knowledge about forgiveness and community renewal through forgiveness. He is also a licensed psychologist. Read Dr. Enright's Personal Biography and learn about his research interests on the UW-Madison Educational Psychology page.
Dr. Enright has received funding from the John Templeton Foundation to conduct research into medical applications of forgiving. He also received funding from a variety of foundations, agencies and individuals for establishing and operating the International Forgiveness Institute. He currently has elementary and/or high school forgiveness education programs operating in Northern Ireland, Greece, Liberia, Singapore, Ghana, Lebanon, the Philippines, Slovakia, Italy, Colombia, Canada, and in Wisconsin as well as other states around the U.S.
For his work in the peace movement, Dr. Enright was named a 2006 Paul Harris Fellow by Rotary International. In 2007, he received UW-Madison's highest award–the Hilldale Award for "excellence in teaching, research, and service." He also received the 2008-2009 Dick Ringler Distinguished Peace Educator Award from the Wisconsin Institute for Peace and Conflict Studies.
See Dr. Enright's full Curriculum Vita
Email: drbob@internationalforgiveness.com
Learn More: "About the International Forgiveness Institute"
---
Amber Flesch, M.E.-P.D.
Program Manager
Amber Flesch earned a Bachelor of Science in Education from UW-Whitewater in 2001 and a Master of Education, Professional Development from UW-La Crosse in 2005. During her Master's program, her Journal Article, Effects of Extrinsic Motivators Versus Intrinsic Motivation in an Elementary Art Class, was recognized as exemplar by UW-La Crosse.


She has served as the Curriculum Developer/Program Manager for the IFI since 2009. Her background is in teaching, mainly elementary art classes. Amber is also a member of the IFI Board of Directors.
Dr. Suzanne Freedman, Ph.D.
Contributing Writer and Researcher

Dr. Suzanne Freedman is a Professor in the Educational Psychology department at the University of Northern Iowa in Cedar Falls, Iowa. She earned her Bachelor of Arts degree from the University of Delaware and both her Masters Degree and Ph.D. from the University of Wisconsin-Madison where she studied under and conducted research with Dr. Enright. Her dissertation was a landmark study that was published in the Journal of Consulting and Clinical Psychology on Forgiveness with Incest Survivors.
Dr. Freedman's areas of expertise include the psychology of interpersonal forgiveness, forgiveness education and intervention, moral development, incest and sexual abuse, eating disorders, early adolescent development, and at-risk adolescents. She has presented at numerous national and international conferences on the psychology of interpersonal forgiveness. At the University of Northern Iowa she has taught a variety of psychology courses including the Psychology of Interpersonal Forgiveness.
Read Dr. Freedman's full Curriculum Vita
Email: suzanne.freedman@uni.edu
---
Dr. Peli Galiti, Ph.D., M.Ed.
Director, Greek Forgiveness Education Program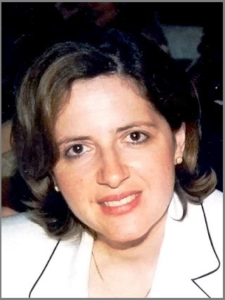 Peli Galiti, Ph.D., M.Ed., was born in Athens, Greece. She has a Master's Degree in School Counseling from the University of Missouri, St. Louis and a Ph.D. in Educational Psychology from the University of Athens. She has done postgraduate studies in family therapy in the US and in Athens; she has worked as a volunteer counselor in psychiatric settings, at St Anthony's Medical Center in St Louis and at Children's Hospital in Boston.
Dr. Galiti was a lecturer at the postgraduate program of the School of Education at the University of Athens. Since 1999 she has worked as a high school teacher and school counselor in Athens. She was appointed to the Counseling Office of Youth by the Ministry of Education covering 170 schools in the Athens metropolitan area.
In 2012 she moved with her husband and their four children to Madison, Wisconsin, USA. She is currently Director of the Greek Forgiveness Education Program sponsored by the International Forgiveness Institute and is conducting workshops training teachers in Greece in collaboration with the Aristotle University of Thessaloniki. Dr. Galiti is also a research scholar at the University of Wisconsin-Madison in the Department of Educational Psychology, working together with Professor Robert Enright, co-founder of the International Forgiveness Institute.
Dr. Galiti is the author of two books and has been awarded with Greek program funding from the prestigious Stavros Niarchos Foundation, established by Stavros Spyros Niarchos, an Athens native who was one of the most innovative and successful businessmen of the twentieth century. Niarchos built and owned the largest shipyard in the Mediterranean (near Athens) and assembled the largest shipping fleet in the world before his death in 1996.
Email: galiti@wisc.edu 
---
Marc Laudonio
Director of Communications
Marc Laudonio lives in Cottage Grove, Wisconsin with his wife and four children and serves as the Director of Evangelization at Immaculate Heart of Mary Catholic Church in Monona, WI. He earned a Bachelor of Arts in Communication Arts from the University of Wisconsin-Madison in 2003 and completed a Master of Arts in Pastoral Theology from the Augustine Institute (Denver, CO) in 2012.
Marc has worked with people of all age ranges in his work and volunteer roles at camps, schools, child care centers, churches, and business offices. In doing so, he has come to appreciate the healing power of forgiveness every relationship and community needs! He has happily shared the insights and principles based on Dr. Enright's research in many contexts since first hearing Dr. Enright give a presentation to a group of young adults at a bar in the late 2000s.
Email: director@internationalforgiveness.com 
---
Timothy (Tim) Markle, MACS, MA in Counseling
Contributing Writer and Speaker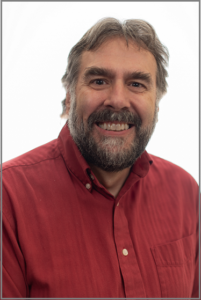 Tim Markle is a multi-talented and versatile professional whose two major aspirations in life are helping individuals with developmental disabilities and educating people about the benefits of forgiveness.
For the past 10 years, Tim has been an Outreach Specialist at the University of Wisconsin-Madison Waisman Center. His current roles there include: 1) Director of the Southern Regional Center for Children and Youth with Special Health Care Needs; 2) Family Discipline Coordinator for the Wisconsin Maternal and Child Health Leadership Education in Neurodevelopmental and Related Disabilities–the WI LEND Program; and, 3) Senior Outreach Specialist with the Youth Health Transition Initiative and Genetic Systems Integration Hub.
In those various capacities, Tim works to improve the lives of children and adults with developmental disabilities and neurodegenerative diseases, some of life's most challenging conditions. He also develops curriculum for a variety of audiences, provides training for both children and adults, and is a prolific speaker.
Tim has a Masters in counseling from John Carroll University (a Jesuit Catholic University in Cleveland, OH) and a Master of Arts in Christian Studies (MACS) from Trinity Evangelical Divinity School north of Chicago. He also studied at Ohio Northern University (Ada, OH) and at Bowling Green State University (Bowling Green, OH), where he earned a Bachelor of Arts in Psychology with a minor in Philosophy.
Tim's career has included stints as a college counselor, high school teacher, substance abuse counselor, church office manager, and early childhood educator. He also worked in health care customer service, in health records quality assurance, and on the staff of a residential shelter for pregnant women. His volunteer activities have taken him across the country.
As the capstone project for his MACS degree, Tim developed an eight-week course that focused on how to forgive and why forgiveness is indispensable for dealing with anger, depression, anxiety and trauma. Since then, Tim has taught about forgiveness at Stoughton Hospital, at local and statewide conferences, on the radio, and at educator wellness events. He is the founder of a forgiveness education organization called Forgiveness Factor.
Tim moved to Wisconsin 25-years ago in order to marry the woman who is now his wife, Tracy. Their home is in Stoughton (just outside Madison) and they have two adult children including one on the autism spectrum.
Listen to Tim recount his personal forgiveness journey at "Arts for Everyone," the Feb. 2, 2023, episode of The Empowered Caregiver Show, a weekly podcast of Civic Media that has coverage throughout the upper Midwest. Tim's interview starts at the 22 min. 35 sec. mark of the recording.
Email: timothymarkle@forgivenessfactor.org
---
Patricia Mae Plumb, M. Ed, M.Th.
Program Manager, IFI – Kansas/Missouri

As an organizational development consultant for Fortune 500 companies, Patricia Mae Plumb trained more than 7,600 leaders on topics such as leading effective teams, coaching, conflict resolution, and change management. She also co-pioneered a graduate level program for the University of Missouri-Kansas City/Crittenton to train school counselors. Patricia served Children's Mercy Hospital as an instructor of parenting classes for six years and taught workshops on grief, family communication, and forgiveness to audiences across the country.
Patricia's leadership extends to serving on executive boards in forgiveness and reconciliation conferences, both national and international. She has been interviewed on television and radio regarding the dynamics of interpersonal communications and forgiveness.
In addition to her position as Program Manager-Kansas/Missouri for the IFI, Patricia serves as CEO/Consultant for Plumb Leadership Consulting. She is founder and president of Our Shepherd's Touch Ministry and her latest book, God's Handwriting: A Journey of one Simple Life and a Great God (March 2023), is available at book retailers including Amazon.com. A video teaser about the book is available on Vimeo.com.
Patricia earned a Bachelor's & Master's in Education from the University of Missouri and a Master's in Theology with an emphasis on Marriage, Family, and Child Counseling from Fuller Theological Seminary, Pasadena, CA. She is accredited as a mental health coach by the American Association of Christian Counselors.
Email: pplumb@kc.rr.com
---
Dr. Gayle L. Reed, RN, Ph.D.
Researcher, Program Developer/Lecturer, Speaker

Dr. Reed has been working on forgiveness research at the University of Wisconsin with Dr. Robert D. Enright for 21 years, received her PhD in 2004, and has been part of the International Forgiveness Institute team since its inception in 1994.
Dr. Reed's research includes an experimental study with women recovering from emotional abuse by a spouse or romantic partner. The results of this study demonstrated that forgiveness therapy provided many psychological and developmental benefits for these women. The full report of this research, which was co-authored with Dr. Enright, can be found in October 2006 issue of theJournal of Consulting and Clinical Psychology. In addition, Dr. Reed and one of her research participants in this study were featured on the nationally-televised Jane Pauley Show.
Dr. Reed has also completed another study that shows a strong correlational relationship between forgiveness levels and psychological health for people recovering from a traumatic divorce due to infidelity. This research study was also the first use of a survey developed by Dr. Reed and Dr. Enright that operationalized the concept of finding meaning in suffering. Finding meaning in suffering was found to be highly correlated with both forgiveness levels and psychological health thus demonstrating that finding meaning in suffering is an important step in the forgiveness process. This research has been featured in the World of Forgiveness and in a conference paper given for the 2006 CAPS annual meeting. Additionally:
Dr. Reed has taught and is now teaching a number of developmental courses for the Educational Psychology Department of UW-Madison. All of these courses include a strong emphasis on the developmental process and benefits of forgiveness.
She has given over 70 forgiveness workshops, retreats, and seminars–more than 20 of them in the past three years. The forums for these forgiveness presentations include health care organizations, social service groups, university forums, peace conferences, faith organizations, schools, advocacy groups for sexually exploited women, volunteer mental health groups, hospice care organizations, and county juvenile court commissions.
Dr. Reed has also been offering coaching through the forgiveness process for individuals and couples for the last ten years. She says the courage and growth of these clients has been truly remarkable.
Dr. Reed is volunteering with the IFI in working on the STREETS FORUM for sexually exploited women, on bringing forgiveness into prisons starting with the Columbia Correctional Institute, a maximum-security correctional facility just north of Madison, WI, and on developing a Forgiveness Certification Program for professional counselors with the UW-Madison Continuing Education Department.
Read Dr. Reed's full Curriculum Vita
Email: gaylelreed@gmail.com
---
Jacqueline Song
Principal Researcher, Program Director
Jacqueline Song received her Master of Science degree in Psychology and has Ph.D. units in Clinical Psychology with an area of specialization in Clinical Psychology in the Philippines. She currently is a doctoral student at a university in Spain.
She is a member of the International Forgiveness Institute where she coordinates conferences and workshops on forgiveness education in various world venues. She organized the Jerusalem Conference on Forgiveness in 2017 and the International Educational Conference on Agape Love and Forgiveness in Wisconsin, 2022. She also is the author of 16 publications centered on the measurements of forgiveness, Forgiveness Therapy, and Forgiveness Education. Her research focus is on forgiveness interventions within correctional institutions, people recently released from prisons, people without homes, and road rage issues. She also has developed new measurement scales which she is now validating.
Email: jacqsong@gmail.com