IFI Audio Visual Resources
Training Videos for Professionals:
Forgiveness – This 100-minute training video (in DVD and VHS formats) is available from the American Psychological Association (APA). Dr. Robert Enright, professor of educational psychology, and Dr. Richard Fitzgibbons, MD-psychiatrist, discuss and demonstrate their forgiveness-centered approach to psychotherapy.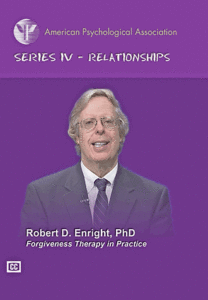 Forgiveness Therapy in Practice – In this 100-minute video program, Dr. Enright demonstrates his  approach to forgiveness therapy with a female client who feels hurt by her mother. Available from the APA.
---
Psychology America Podcasts: 
1) How to Forgive with Dr. Robert Enright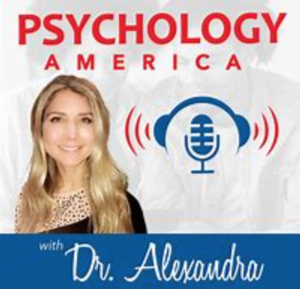 Have you ever had anger that didn't seem to go away over time? What if your anger is toward a spouse that has betrayed you; toward a lover who has cheated on you? What do you do? What are the five steps to take if YOU are the one who has been unfaithful? How do you get over divorce anger? How can you leave a legacy of empathy and love for your children, for the following generation, rather than toxic anger?  This 58-minute podcast was recorded on Dec. 23, 2018, in Dr. Alexandra's New Jersey studio.  – Access the podcast –
2) Rehabilitating those who are "Forgotten": People in Prison 
In this podcast episode, Dr. Alexandra discusses two new research projects recently completed by Dr. Robert Enright and Dr. Maria Gambaro with 103 men in a U.S. maximum-security prison. Also addressed is "Why should I care what happens to these men? They're in prison for a reason." This 67-minute podcast was recorded on Aug. 9, 2020. In the first three weeks that this podcast was available on Dr. Alexandra's site, it was downloaded by individuals in 225 US cities and 22 foreign countries.  – Access the podcast –
Dr. Alexandra Miller, Psy.D. is a mother of four and an expert in family systems psychology, cognitive behavioral psychology (CBT) and clinical psychopharmacology. She has earned a Doctorate in Psychology, a Master's Degree (Ed.S.) in Marriage and Family Therapy, and a Master of Science (MS) Degree in Clinical Psychopharmacology. In addition to her private practice, Dr. Alexandra is an officer and board member for a children's advocacy center in Newton, NJ, that helps prevent and treat child abuse. She is the author of "There's Always Hope" — a children's book that inspires hope and teaches empathy for the physically disabled.
Learn more about Dr. Enright's work with people who are incarcerated: 
---
Forgiveness in the News: 
School Principal: "Forgiveness has become a mindset for our students. . ."
This short news video features both Matt Beisser, Principal at St. Dennis Catholic School in Madison, WI, and forgiveness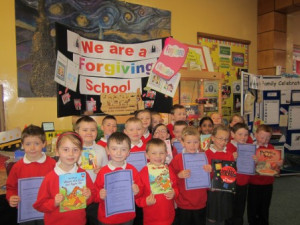 researcher Dr. Robert Enright. It outlines how Forgiveness Education programs are being implemented at St. Dennis and eleven other parochial schools in Wisconsin's capitol city. A Professor of Educational Psychology at the University of Wisconsin-Madison, Dr. Enright has committed his life to studying the science of forgiving others. Among the many scientifically-documented Forgiveness Education curricula he and his fellow International Forgiveness Institute associates have developed is an anti-bullying curriculum being used in schools around the world.
---
Dr. Robert Enright Explains How to Live "The Forgiving Life"
In this video, recorded at the 2011 American Psychological Association (APA) Convention in Washington, DC, author Robert D.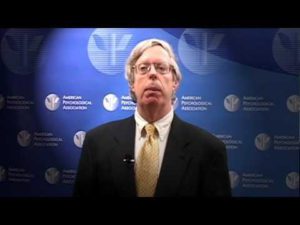 Enright talks about his book, The Forgiving Life: A Pathway to Overcoming Resentment and Creating a Legacy of Love. Dr. Enright offers scientifically supported guidance to help people forgive those who have acted unfairly and who have inflicted emotional hurt.
"To lead a forgiving life," Dr. Enright emphasizes in this interview, "you must take one forgiveness step at a time and forgive a particular person for a particular event, and then realize that this could be more than just a one time event that makes you feel good. It can be a way of practicing goodness toward others who have been unfair to us starting from childhood, through adolescence, into adulthood and beyond. So that this practice of goodness in the face of injustice can help one psychologically and enliven one's relationships, and in fact give a meaning to life; a sense of hope that a person didn't think possible until saying yes to leading this forgiving life." The book is available from amazon.com or from the APA website.
---
Dr. Enright Receives 2019 International Research Award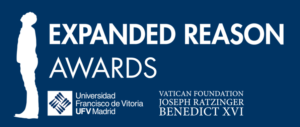 The Expanded Reason Award is presented annually by the University Francisco de Vitoria (Madrid, Spain) in collaboration with the Vatican Foundation Joseph Ratzinger/Benedict XVI (Rome, Italy) "to recognize and encourage innovation in scientific research and academic programs." Two members of the International Forgiveness Institute (IFI) Board of Directors were selected to receive the 2019 award in recognition of their Forgiveness Therapy research–Dr. Robert Enright, founder of the IFI, and Dr. Richard Fitzgibbons, MD, Director of the Institute for Marital Healing just outside Philadelphia, PA. In this video recorded at the Expanded Reason Congress (and awards ceremony) in Madrid on Sept. 19, 2019, Dr. Enright explains the importance of forgiveness across the social science disciplines and the significance of creative thinking, particularly in psychology.
---
Jerusalem Conference on Forgiveness for the Renewal of Individuals, Families, and Communities
Twenty Two (22) Video Tapes
The Jerusalem Conference on Forgiveness, the first forgiveness conference ever held in the Middle East, was organized and produced by the International Forgiveness Institute on July 12 and 13, 2017. Day 1 of this 2-day conference included speakers from Judaism, Christianity, and Islam discussing what it means to forgive, the importance of forgiveness, and how to better interact with others through forgiveness. Day 2 focused on how to bring forgiveness to children and adolescents in school and at home. The program included presentations by educators who are implementing forgiveness education, personal testimonies, and opportunities for everyone to contribute their ideas.
Now you can view every presentation of the entire conference whenever you wish. TelePace, an Italy-based telecommunication service, professionally video-recorded all 22 sessions.  They are available to you at no charge here.
Conference speakers included:
---
At Your Local Picture Palace: Forgiveness Movies With a Message:
This year's Oscar nominees for Best Picture tend to emphasize some of the worst aspects of humanity. Joker, for example, is about the descent into homicidal madness. Jojo Rabbit focuses on one of humanities worst events, the Nazi Holocaust. The film 1917 is about another catastrophe, World War One. Rather than emphasize the unsavory aspects of humanity, here is a collection of uplifting movies you will want to check out at your local movie house or cineplex. Check back regularly for new reviews and updates.
Pain and Glory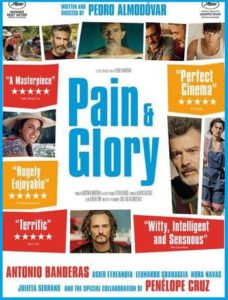 Salvador Mallo is a once-famous film director who now suffers excruciating back pain, constant heartbreak, and emotional estrangement from his mother. He's still livid from a 32-year-long feud with an actor he once directed. He's lost the desire to make new films. Pain and Glory is the story of how Salvador lelarns to forgive himself and others for their failures and shortcomings–and in doing so re-discovers his drive and creativity.
In a series of scenes that move fluidly between his past and his present, forgiveness starts with his body. After years of opiods for his pain, Salvador experiments with heroin, then finally forgives his body of its many misgivings and pursues treatments to alleviate some of his discomforts. As the process unfolds, he forgives himself for not being the son he'd hoped to be to his mother.
Salvador's missing lover returns briefly for a scene of subtly written and poignantly acted mutual forgiveness between the two grey-bearded characters. But the most moving scenes involve his friend, the actor Alberto. It's through their reconciliation that the once-defeated Salvador returns to his craft.
The film invites us to consider the ripple effect of forgiveness, as Salvador learns to acknowledge the truth of his emotional pain. As a result of that honesty, he frees himself (and others in his life) from things like needless anger, prolonged distrust, and excessive self-judgement. Once on the other side of forgiveness, he's able to move forward with both a liberated spirit and a deepened compassion for the sorrow of others.
Read more about the film Pain and Glory.
Watch the official trailer (1 min. 35 sec.).
This review was written by Alicia Crawford, a writer for the Greater Good Science Center (GGSC) at the University of Berkeley. GGSC recognized Pain and Glory as one of the "Twelve Films (of 2019) That Highlighted the Best in Humanity."
This film is rated R for drug use and brief nudity.
---
Become a "Peace Builder" by signing The Forgiveness Pledge.