Dr. Enright Receives Cecil Findley Distinguished Service Award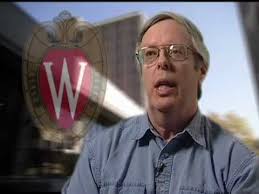 Dr. Robert Enright, founder of the International Forgiveness Institute, was honored recently with the 2012 Cecil Findley Distinguished Service Award. The award is in honor of Cecil Findley, a retired United Methodist pastor and Campus Minister Emeritus at The Crossing (formerly Madison Campus Ministry) in Madison, WI, who passed away in 2010. Rev. Findley's ministry was marked by his passion for social justice, peacemaking, interfaith dialogues, and the prophetic teachings of Jesus.
The award was presented by Rev. Douglas Pierce, Executive Director of The Crossing, on April 13 at the ministry's Spring Gala. In his remarks during the presentation of the 2012 Cecil Findley Distinguished Service Award, Rev. Douglas Pierce said,
Our honoree tonight (Dr. Robert Enright) is: a clinical psychologist, a sought-after speaker, and a popular Graduate Student Advisor.
And if that's not enough, tonight's honoree is also an accomplished author with over 100 publications and 5 books to his credit. His work has been featured in a major documentary film (The Power of Forgiveness) and in a variety of news outlets.
As a matter of fact, our recipient is often referred to as "the father of forgiveness education" because of his 25 year academic commitment to researching and implementing forgiveness programs.
Read the full presentation speech here.
Please follow and like us:
Categories: IFI News, News