Archive for May, 2021
The International Forgiveness Institute (IFI) achieved major milestones this week with publication on its website of the 1,000th "Ask Dr. Forgiveness" entry and more than 2,000 unique posts in its "Blogs and News" communication sections.
.
"Ask Dr. Forgiveness" is a dedicated column on the IFI website where users can ask questions related to even the toughest forgiveness topics and receive an informed response directly from IFI co-founder Dr. Robert Enright who is often referred to as "Dr. Forgiveness." It is the IFI's most popular website component and has garnered questions from individuals across the globe who are seeking answers and information on forgiveness-related topics.
As illustrated in the info-graphic at right, the IFI's "Our Forgiveness Blog" section contains the second-highest number of website entries. Every one of the 513 entries in that section has been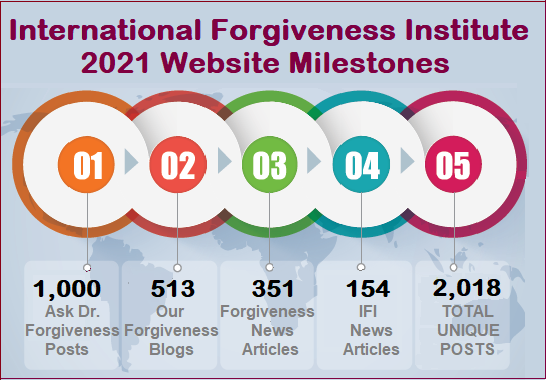 personally written by Dr. Enright (with the exception of a few guest blogs from prominent forgiveness advocates).
Those IFI followers who track Dr. Enright's blogs have learned about the wit and wisdom of his 35-years pursuing scientific forgiveness research, the meticulous validation of his scientific procedures, his prominent international role in creating forgiveness education curricula, and his dominance in developing forgiveness therapy interventions.
In addition to those 500+ essays on the IFI website, Dr. Enright has also authored 86 additional blogs for his column called "The Forgiving Life" that runs monthly in the magazine Psychology Today. That publication, which focuses on mental health and behavioral science issues, established its partnership with Dr. Enright more than five years ago.
"The 2,000+ milestone we just reached with our blog and news sections is a hugely significant accomplishment," according to Dr. Enright. "Compared to other websites that focus on moral development, the IFI website is by far the world's largest portal to anything and everything forgiveness-related."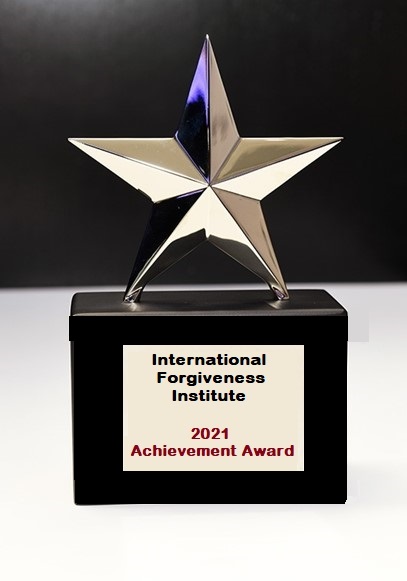 Part of the reason Dr. Enright can make that claim is because of his life-long aspiration to share the unvarnished results of his scientific research and interventions with not only interested scholars but with other psychologists, psychotherapists, and, essentially, the entire world.
That's why the IFI website now contains the full texts of many research documents produced by Dr. Enright and his research teams (available at no cost). Additionally, the site contains the full documentation (including instructions and scoring algorithms) for the most popular research tools Dr. Enright created during his career (again, available at no cost). In just the past three weeks, those tools have been accessed by scientists and clinicians from 21 different US states and 17 foreign countries.
"We provide all those resources on our website because we want to expand the availability of crucial forgiveness knowledge," Dr. Enright says. "Our goal is to reach across continents to help satisfy man's innate curiosity about forgiveness and to help disseminate the good news about the abundant benefits of the virtue of forgiveness."
---
Please follow and like us: