Tagged: "Anne Gallagher"
Have you ever made a promise to love, honor, and obey outside the covenant of marriage?  In a certain way, I have. 
That promise, which I made in 2002, has now been fulfilled as we turn the clock to 2022.  We at the International Forgiveness Institute had just decided to start forgiveness education programs at the century's turn.  The point was this: If learning to forgive can aid people's recovery from deep injustices against them, then wouldn't it be a good idea to help young children learn to forgive so that, once the storms of life hit them as adults, then they would have a tool, forgiveness, to avert confusion, resentment, and even possible abiding anger and anxiety?  It seemed to be worth a try and so we looked around the globe with this question: Where is there a society that now is post-conflict, which has suffered, and which might benefit from forgiveness education?
Our team at the International Forgiveness Institute, after much thought and discussion, centered on Belfast, Northern Ireland for four reasons: 1) There had been The Troubles across Northern Ireland, in which Irish Catholics and British Protestants were in an escalated conflict since 1972's Bloody Sunday in Derry/Londonderry; 2) there was a signed peace accord in 1998, which reduced the conflict, but still there was a post-conflict sense of tension; 3) the two groups were English-speaking and so we would not have to start with interpreters; and 4) Ireland and Northern Ireland are two of the closest ports-of-call from the Eastern United States.
So, off my two sons and I went in July of 2002, landing first on the West Coast of the Emerald Isle and then to Belfast, where we met the esteemed Anne Gallagher, who formed Seeds of Hope to do her best to bring peace to Northern Ireland.  Anne was amazing in introducing us to primary school personnel and we had the great honor to start forgiveness education in both St. Vincent de Paul Primary School and Ligoniel Primary School, both on the Ligoniel Road in Belfast.
---
"Forgiveness isn't something that's talked about with reconciliation, but it's needed to bring closure to the pain and suffering experienced in Northern Ireland. You can't contemplate hope unless you address despair. To heal the wounds of Northern Ireland I believe you have to see humanity in the face of the enemy. Forgiveness is a journey."
Anne Gallagher (1953-2013)
---
Upon my first visit to the principal of St. Vincent de Paul School, Mr. Brian McParland, he heard our proposal for forgiveness education and agreed that this is a vital vision for Northern Ireland.  He assented to having this programme pioneered in his school.  Yet, he quickly added this: "You will not last more than 3 years here in Belfast."  I was surprised to hear that and asked, "Brian, why do you say that?"  He looked at me and said, "No one lasts more than 3 years in Belfast.  After that time, people grow weary, the thrill of travel wears off and they quit."  I took a deep breath and answered, "Brian, I will give you 20 years."  He looked at me with kindness, but said nothing.
Well, as I consult Siri on the Apple Watch, I see that the calendar is about to turn to the year 2022.  Hold on for a minute. . . I have to do a little bit of quick math.  Ahh, yes. . . it has been exactly 20 years now since my promise to Mr. McParland.  Our International Forgiveness Institute has successfully implemented forgiveness education now in many schools of Belfast and surrounding communities.
As we end the 20th year, some of us at the University of Wisconsin-Madison are doing a research program with 18 classrooms of primary 7 students (grade 5 in the United States), across Northern Ireland, funded by the John Templeton Foundation.  This will culminate in an international conference in Madison, Wisconsin, led by Jacqueline Song of our International Forgiveness Institute,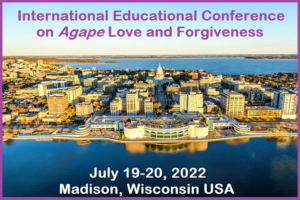 in which these teachers will participate.
As I look around, I see that Mr. Brian McParland now is retired from his educational duties.  Mrs. Claire Hilman, the principal at Ligoniel Primary in 2002, also is retired.  Dear Anne Gallagher now has passed to eternal life.  No other educators who joined us two decades ago are still there.  As I look around, I see that I have kept my promise now only to God and me.  And that is sufficient for the promise-keeping.  I hope that at least some in Northern Ireland are the better for it.
A promise kept may bear fruit of which none of us is aware and this is why we press on with the vision for forgiveness education, started two decades ago.
Robert
Please follow and like us:
On this date eight years ago, and with a heavy heart, I posted the obituary below on a peace hero of Northern Ireland, Anne Gallagher. 
.
In that tribute, I vowed to keep Anne's life-giving work alive and this post is one small indication of that promise. I am pleased to report that our forgiveness education work in Northern Ireland has continued. We are entering our 20th year of such service to the educators in that land. This all started through Anne's tireless efforts and passion for peace in her homeland.
.
Anne, I hope you are pleased with what we have done on the path which you started to walk so long ago.
.
In Memoriam: Anne Gallagher, Seeds of Hope
It is with deep sadness that we announce the passing of a true patriot for peace, Anne Gallagher of Dublin, Ireland (August 7, 2013).
Anne started the peace organization, Seeds of Hope, in Ireland as a way to counter the after-effects of The Troubles. Even though the peace accord was signed in 1998, hearts were still embittered by the struggles that began to erupt in early 1972 with Bloody Sunday. Some of Anne's friends and relations took up combat and were part of paramilitary organizations in Ireland and Northern Ireland. Anne, in contrast, sought dialogue as a way to peace.
Anne was instrumental in the International Forgiveness Institute's transition to forgiveness education in Belfast. She tirelessly set up meetings with us at various schools such as Ligoniel, St. Vincent de Paul, and Mercy Primary School. Because of Anne's endorsement of us, doors flew open and within about one month of trying, we were accepted into schools within the inter-face areas of the city (where contentious groups live segregated lives but in close proximity to one another)..
I recall vividly in 2003 sitting with three ex-combatants who wanted to know more about forgiveness education. They were unsure if it was a good idea. Anne set up the meeting. You see, we needed their permission to go into a particular school because some of the ex-combatants informally controlled their neighborhoods. One of them, battle-tested, said to me, "My son is in that school. Forgiveness will make him weak." I swallowed hard and asked, "Do you want your son to grow up and live as you have?" He bowed his head and with love in his heart for his son said, "No." It was then that he gave us permission to enter the school.
Anne was always close to danger like this. She did not care, even though some of her brothers were scared for her. Yet, she had a spark in her eyes and a conviction deep within that peace must be sought even if it meant putting oneself on the line at times.
Anne Gallagher represents peace in Ireland. We at the IFI will do our best to keep alive her vision for Seeds of Hope in each human heart. Peace be with you now, Anne.
Robert
Author's Note: Read about the Northern Ireland Troubles, about Bloody Sunday, and about learning to forgive in the "Seeds of Hope Ex-Prisoners Think Tank Report" co-authored by Anne Gallagher (whose four brothers became involved in the Northern Ireland conflict and served long prison sentences, one being shot dead upon his release.)
— Anne Gallagher photo by Brian Moody
---
Please follow and like us:
A new and innovative online training course is now available through The Forgiveness Project, a London (UK)-based organization that collects and shares stories of forgiveness in order to build hope, empathy and understanding.
"Working with stories of lived experience – the transformative power of storytelling," draws on The Forgiveness Project's 16-years of experience to explore approaches and perspectives relating to forgiveness, restorative narratives, shame, and resilience. The course also offers tools and techniques to build participants' knowledge of and the use of storytelling in their work.
An introductory forum kicks off the course and is followed by five 3-hour sessions starting in July. Participants are expected to devote an estimated 3-4 hours of their own time between the sessions exploring and trying out different creative approaches. Because of the difficult subject matter being covered, all potential participants will be interviewed prior to final acceptance into the course and enrollment will be capped at 18 participants.
Marina Cantacuzino, MBE, The Forgiveness Project founder, and Sandra Barefoot, the organization's Programme Development Lead, will facilitate the course. Cantacuzino is an award-winning journalist who embarked on a personal project in 2003 collecting stories of people who had lived through trauma and injustice, and who sought forgiveness rather than revenge.  Barefoot, among her various responsibilities, is the manager of the organization's prison program, RESTORE, and the lead facilitator of that work for the past eleven years. Course participants will be offered one-to-one mentoring time with each of the two facilitators.
Learning objectives and detailed course information is available on The Forgiveness Project's "Working with stories of lived experience" website page. Cost of the course is £950 GBP (~ $1,350 USD) for individuals and £1350 GBP (~ $1,900 USD) for organizations.
---
"The Forgiveness Project shares stories of forgiveness in order to build hope, empathy and understanding."
---
As the title of this innovative course suggests, storytelling can indeed embody the power to transform lives. That power is exhibited in the hundreds of personal stories shared on The Forgiveness Project website from both victims/survivors and perpetrators of crime and conflict who have rebuilt their lives following hurt and trauma.
That reliance on storytelling is also a crucial component of the strategy employed by the International Forgiveness Institute (IFI). Co-founder Dr. Robert Enright has incorporated storytelling (through the use of childrens' literature) into most of the 17 Forgiveness Education Curriculum Guides developed by the IFI. Additionally, many of the same individuals featured on The Forgiveness Project website have been featured on the IFI website including:
Archbishop Desmond Tutu, the 1984 Nobel Peace Prize winner for his opposition to SouthAfrica's brutal apartheid regime, forgave those who tortured him and established a nonviolent path to liberation for his country. Archbishop Tutu is a "Founding Patron" of The Forgiveness Project and an Honorary Member of the IFI Board of Directors.
Eva Mozes Kor, the Holocaust survivor who forgave her Auschwitz persecutors and who partnered with Dr. Enright on various media and personal projects before her death on July 4, 2019.
.
Anne Gallagher, a Belfast, Northern Ireland nurse who: 1) tended to victims of bombs and bullets on both sides of the sectarian divide; 2) founded Seeds of Hope, an organization that facilitates storytelling based on The Troubles; and, 3) helped the IFI establish Forgiveness Education Programs in Belfast schools more than 19-years ago—programs that are still operating today.
.
Thordis Elva and Tom Stranger—Elva was a 16-year-old student in Iceland when she was raped by 18-year-old Stranger (an exchange student from Australia). She later forgave her attacker and the two have since appeared together in countless presentations and co-authored a book South of Forgiveness.
Stories like those and the many others featured on the websites of The Forgiveness Project and the International Forgiveness Institute demonstrate that forgiveness is first and foremost a personal journey with no set rules or time limits. True forgiveness is also a testament to the resilience of the human spirit and an alternative to the cycles of conflict, violence, crime and injustice so prevalent around the world.
---
Please follow and like us: