Tagged: "Dr. Peli Galiti"
More than 3,000 grade school students in Greece are learning how to reduce their anger, increase cooperation, gain resilience, and transform their traumas into personal character strengths through Forgiveness Education classes during this 2021-2022 school year.
"Trauma Transformation Through Forgiveness Education" is a social-emotional learning (SEL) program developed by Dr. Peli Galiti, Ph.D., M.Ed., research scholar at the University of Wisconsin – Madison. Dr. Galiti, a native of Athens, is also Director of the Greek Forgiveness Education Program (GFEP) started in 2014 by the Madison-based International Forgiveness Institute (IFI).
"This one-of-a-kind program is based on the educational research studies conducted by Dr. Robert Enright who pioneered the field of Forgiveness Education," says Dr. Galiti. "His studies have demonstrated that Forgiveness Education classes help students reduce in anger and hostile attribution, increase in empathy, and actually result in improved grades." 
Dr. Enright is a UW-Madison educational psychology professor who co-founded the International Forgiveness Institute in 1994. He has developed comprehensive Forgiveness Education curricula for students in grades K-4 through 12th that are now being used in more than 30 countries around the world.
According to Dr. Galiti, the new program is actually a collaboration between the IFI, UW-Madison, and two Greek universities—the Aristotle University of Thessaloniki and the National and Kapodistrian University of Athens (where Dr. Galiti previously lectured). Funding is provided by the Athens-based Stavros Niarchos Foundation, one of the world's leading private, international philanthropic organizations. The program also has the endorsement of the Greek Ministry of Education.
Dr. Galiti began implementation of the Trauma Transformation program last September by leading a series of Forgiveness Education workshops for 110 Greek teachers. Those teachers are delivering the forgiveness classes this semester at schools in four Greek cities–Athens, Larisa, Patra, and Thessaloniki.
That training focused on techniques and methods the teachers could use to help their students manage traumatic experiences and any personal or relational difficulties that might cause harm and pain. Thematic instructional units included:
Forgiveness Education theory and principles.
Why forgiveness is necessary and how it is applied in the school environment.
Theories about trauma and its treatment.
Transformation and wound healing through Forgiveness Education.
Collaboration in the classroom and conflict resolution.
The experience of Forgiveness Education in Greek schools: Best Practices and Case Studies.
The collaborative training efforts for this Forgiveness Education program have received support and major funding through the Greek Diaspora Fellowship Program that is designed to help avert Greece's brain drain and develop long-term, mutually beneficial collaborations between universities in Greece, the United States, Canada, South Africa and Australia. The Fellowship Program is managed by the Institute of International Education in collaboration with the Fulbright Foundation in Greece, and funded by the Stavros Niarchos Foundation.
In 2017, Dr. Galiti was one of 30 Greek- and Cypriot-born scholars representing 28 prominent United States and Canadian universities who traveled to Greece to conduct academic projects with their peers at Greek universities as part of the Greek Diaspora Fellowship Program. As part of her fellowship, Dr. Galiti hosted workshops about Restorative Justice and Forgiveness Education, along with conducting research about bullying prevention and class collaboration.
---
About the Stavros Niarchos Foundation:
The Stavros Niarchos Foundation (SNF) (www.SNF.org), is one of the world's leading private, international philanthropic organizations, making grants in the areas of arts and culture, education, health and sports, and social welfare. Since 1996, SNF has committed more than $3.3 billion through 5,100 grants to nonprofit organizations in 135 countries around the world.
The Foundation funds organizations and projects that are expected to achieve a broad, lasting and positive impact for society at large, and exhibit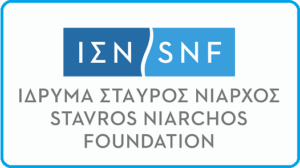 strong leadership and sound management. The Foundation also supports projects that facilitate the formation of public-private partnerships as an effective means for serving public welfare. In addition to its standard grants, the SNF has continued to respond to the urgent needs of Greek society, by providing relief against the severe effects of the socioeconomic crisis through three major grant initiatives of $378 million.
Please follow and like us: