Tagged: "Healing Hearts Hero Award"
Mary Lou Coons, founder of the Puppets For Peace Foundation, has been recognized with the "Healing Hearts Hero Award" by the International Forgiveness Institute (IFI). The award recognizes exceptional efforts by individuals who have partnered with the IFI and its co-founder, Dr. Robert Enright, to advance the broader understanding and application of the virtue of forgiveness.
An always-cheerful optimist, Mary Lou excels at using every tool available to her to overcome life's adversities–like the brain and spinal cord maladies that have caused her to endure years of debilitating pain as well as repeated life-threatening (and life-saving) surgeries.
In fact, just days after her second Chiari Malformation brain surgery (technically known as posterior fossa decompression surgery) in 2012, Mary Lou made her first call to the IFI after learning that Dr. Enright was pioneering Forgiveness Education work with children. She was convinced that her passion for ventriloquism and puppets could somehow supplement those efforts so she volunteered her services.
In the ten years since then, Mary Lou has become a self-appointed "forgiveness ambassador" on a mission to teach as many others as she can about the benefits of forgiveness. Her efforts have included:
Single-handedly convincing her parish elementary school (Holy Family School, Syracuse, NY) to adopt and teach Forgiveness Education in all of its classrooms from pre-kindergarten through 6th grade;
Organizing and setting up a display booth to promote forgiveness to the more than 1,000 attendees at a Women's Conference in Syracuse – resulting in more of the state's schools considering the use of Forgiveness Education Curriculum Guides; 
Creating and producing three video recordings featuring her red-haired puppet Lily that are used by elementary school teachers to help illustrate Forgiveness Education principles to students;
Introducing IFI staff to teacher-missionaries in Rwanda in order to add that country to the list of more than 30 around the world where Forgiveness Education is being taught;
Producing a 10-minute online video version of Rising Above the Storm Clouds, Dr. Enright's storybook for children, that is used in the 3rd and 4th grade programs.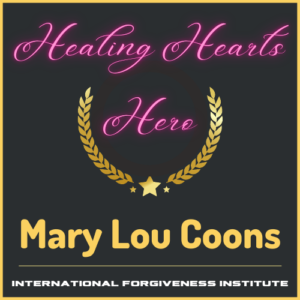 "Despite all that activity, Mary Lou never asked for a penny of payment or reimbursement," Dr. Enright said in recognizing her with the Healing Hearts Hero Award. "Through the Puppets for Peace Foundation she set up 15 years ago, she continues to make important contributions that focus particularly on the lives of one of our most important assets—our children."
According to Mary Lou, the mission of her foundation is "to help spread peace, love and forgiveness. One of the best ways I've found to do that is by working with Forgiveness Education programs because it brings happiness to my heart as well as to the hearts of so many others."
Visit the Puppets for Peace Foundation website.
Please follow and like us: