Tagged: "podcast"
A 54-minute podcast called "How to Move Past Resentment with Dr. Robert Enright, Founder of the International Forgiveness Institute" was released today and is now available free of charge on The Growing Through It Podcast network and major podcast channels.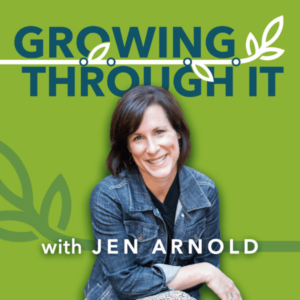 "When someone wrongs, hurts, or violates us, we get angry," according to podcast host Jen Arnold.  "If we hold on to  that anger and resentment it can fester, leading to increased stress, negative emotions, poorer mental health, a weakened immune system, and higher blood pressure. In this podcast, Dr. Enright outlines how can you get past the anger so you can get on with your life."
The interview with Dr. Enright is episode 23 of the podcast series that Arnold has been taping and airing since last year. The series, she says "offers advice, real conversations, and stories of personal setbacks to help you grow from your challenges."
---
Don't just go through it. Grow through it.

Jen Arnold
---
Dr. Enright opens the podcast interview by defining what forgives is and what it's not (since forgiveness, he says, is so often misunderstood). He goes on to explain what happens when people hold on to resentment before walking listeners  through his process for forgiving others and forgiving one's self as well as how to ask for forgiveness.
Jen Arnold is the founder and CEO of Redesigning Wellness, Inc., a company that offers resilience training to individuals and employee groups. She defines resilience as "the process of adapting well in the face of adversity, trauma, tragedy, threats, or significant sources of stress." Forgiveness, she adds, is an important component of that adaptation process.
Learn More:
Please follow and like us: