Tagged: "Enright Forgiveness Inventory"
An eight-nation study designed to test the applicability and sensitivity of the new short form of the Enright Forgiveness Inventory, the EFI-30, has demonstrated that the new instrument is a reliable and valid research tool that can be used across widely diverse cultures.
The Enright Forgiveness Inventory-30 (EFI-30) is a shorter version of the Enright Forgiveness Inventory for Adults (EFI) that was the first forgiveness measurement tool developed by Dr. Robert Enright and his Human Development Study Group at the University of Wisconsin-Madison. The EFI is an objective measure of the degree to which one person forgives another who has hurt him or her deeply and unfairly.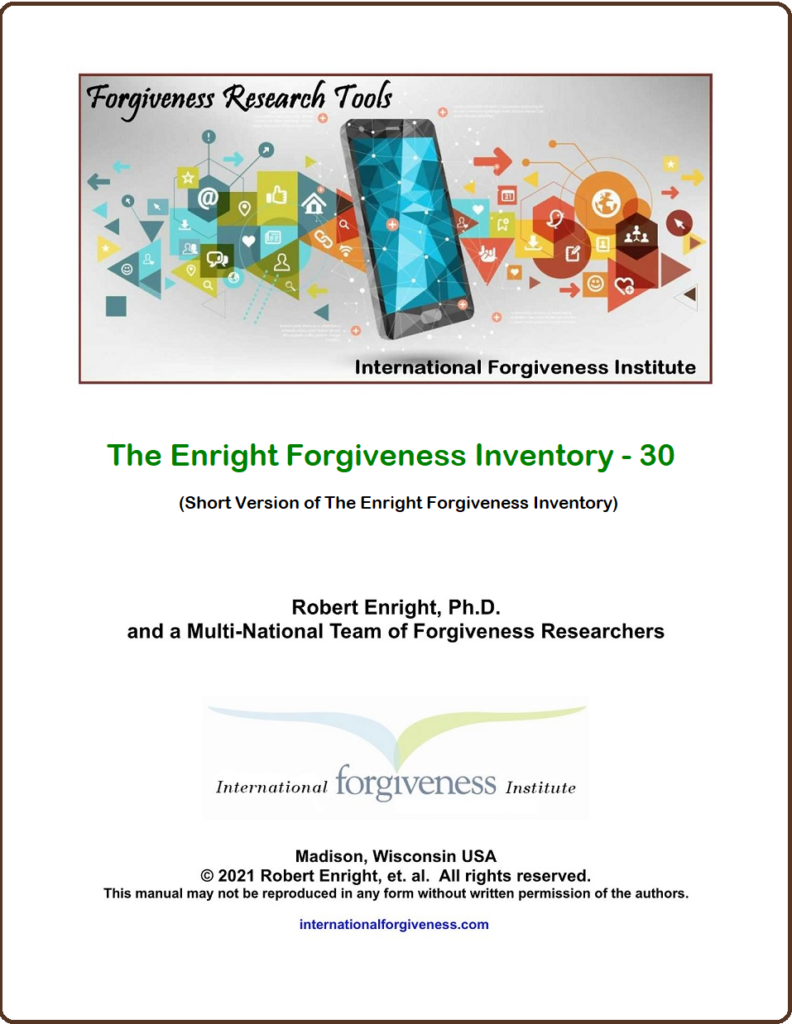 After its development in 1995, the EFI quickly became a central component of forgiveness research both in the U.S. and internationally. It has been translated from English (original language) into Brazilian-Portuguese, Chinese, German, Hebrew, Korean, Dutch, and other languages. Its reliability and validity have been exhibited in Master's theses, doctoral dissertations, and empirical articles published around the world.
The new study, Validating the Enright Forgiveness Inventory-30, was published this month in the European Journal of Psychological Assessment. It outlines the process and rationale used by the study's authors to create a shorter version of the EFI (30 items instead of the original 60) that could convey the same meaningful information on the degree of interpersonal forgiveness across the domains of affect, behavior, and cognition. In other words, they developed a smaller, less time-consuming scale that is still accurate and reliable.
Data from the U.S. were used in the creation of the new measure and applied to seven other countries: Austria, Brazil, Israel, South Korea, Norway, Pakistan, and Taiwan. Results from the study provided the psychometric evidence for the reduced version of the EFI-30 across cultures.     (NOTE: psychometrics is the branch of psychology that deals with the design, administration, and interpretation of quantitative tests for the measurement of psychological variables such as intelligence, aptitude, and personality traits.)
"While the EFI is particularly relevant when it accurately assesses people with low degrees of forgiveness," Dr. Enright said in comparing the two research tools, "the EFI-30 has still demonstrated its effectiveness to distinguish particular cultural social norms that apply to the behavioral expression of forgiveness."
According to Dr. Enright, the new EFI-30 tool is suitable to verify affective, behavioral, and cognitive changes in people who choose forgiveness for improvement of their well-being. He adds that it is designed to assess six psychological stances of victims toward offenders: positive affect, negative affect, positive behavior, negative behavior, positive cognition, and negative cognition.
The EFI-30 and other highly-regarded forgiveness research tools developed by Dr. Enright, co-founder of the International Forgiveness Institute (IFI), are now available absolutely free to any forgiveness researcher who requests them. To learn more about the tools, see the IFI website article Coveted Forgiveness Research Tools Now Available at No Cost. To request Research Tools for your own use, see Dr. Enright's Forgiveness Research Tools.
Please follow and like us:
Alyona Yartseva moved in 2015 from Russia to Kyrgyzstan (officially the Kyrgyz Republic)–a mountainous country of incredible natural beauty in Central Asia. As she pursued her new life  there, intent on helping others improve their own lives, she quickly came to realize that forgiveness is a valuable commodity not only for helping people overcome personal difficulties but also for helping tame the ethnic, political, and socio-economic tensions that simmered there and in surrounding countries that had all gained their independence with the fall of the Soviet Union in 1991.
Since Alyona moved to Kyrgyzstan, she has been on "a forgiveness rampage" that has included:
Undertaking a 15-lesson online Forgiveness Therapy course administered by the International Forgiveness Institute (IFI) after convincing AUCA administrators to accept it as a fully-accredited graduate degree university course;
Acquiring the Enright Forgiveness Inventory for Children (EFI-C), translating it into Russian,  back-translating it, and working directly with Dr. Robert Enright, co-founder of the IFI, in modifying that research tool into what is essentially a new EFI Short Form known as the EFI-30;
Validating the newly-adapted EFI-30 by using it, along with a checklist of physical health symptoms (a new measuring tool that she created herself), in a forgiveness research project with more than 150 participants;
Participating in a four-month forgiveness intervention internship and conducting post-therapy interviews that "vividly demonstrated" to her the therapeutic effects and positive results of forgiveness; 
Conducting a hands-on forgiveness training program for her fellow-AUCA students to demonstrate the four-phases of Dr. Enright's Process Model of Forgiveness and further expand the use of the EFI-30;
Consulting with "no-charge clients" (as a student she cannot charge for her services) who were able to move towards forgiveness and improve their mental health; 
Obtaining and starting to translate into Russian Dr. Enright's Anti-Bullying Forgiveness Program; and,
Writing her thesis on "Subjective Effects of Forgiveness on Stress Level and Physical Health"–a project she conducted involving 150 adults of 3 nationalities and obtaining a Master of Arts Degree in Applied Psychology from the American University of Central Asia (AUCA).
One of the motivating factors for Alyona's impressive foray into forgiveness activities was what she was unable to find when she was accepted as a graduate student at the AUCA in the capital city of Bishkek. Although she conducted exhaustive literature searches for anything related to forgiveness written in either the Russian or Kyrgyz language, she found absolutely none. 
"As a believer in Jesus Christ, I've always understood the value of forgiveness but now I see it from a different professional perspective," Alyona says. "I want to be able to demonstrate the effects of forgiveness (or unforgiveness) to my colleagues in Russian language publications."
As Alyona looks ahead to the future, she says that once she completes translating the anti-bullying material she would like to personally introduce it to local school counselors. Following that, she plans to move to Uzbekistan where she wants to popularize forgiveness therapy among local psychologists. She plans to continue her forgiveness research together with a group of colleagues "who have a heart for forgiveness" and is pursuing foundation grants to fund their efforts.
"Dr. Enright's Forgiveness Therapy is at the very top of my tool box as a counselor," Alyona adds, "and I believe it is essential to promote and research forgiveness therapy and the positive effects of forgiveness in Central Asia."
Alyona can be reached at: alyona.yartseva@gmail.com
---
Kyrgyzstan is a country in Central Asia–a region which stretches from the Caspian Sea in the west to China in the east, and from Afghanistan and Iran in the south to Russia in the north. The region consists of the former Soviet republics of Kazakhstan, Kyrgyzstan, Tajikistan, Turkmenistan, and Uzbekistan. The United Nations also includes Afghanistan as part of Central Asia. The region is also colloquially referred to as "the stans" as the countries generally considered to be within the region all have names ending with the Persian suffix "-stan," meaning "land of." ƒ
Please follow and like us: