Tagged: "Desmond Tutu"
While Russia's invasion of Ukraine is invoking unwelcome recollections of previous territorial wars, an international multidisciplinary team of researchers that has been meeting since 2014 is discovering what makes some societies more peaceful than others. One of the crucial elements for promoting peace and nonviolence, they say, is an individual's capacity for forgiveness—a concept International Forgiveness Institute co-founder Dr. Robert Enright has been espousing for decades.
"We launched our first peace initiative in 2002 when we began teaching forgiveness education in Belfast, Northern Ireland," Dr. Enright recalls. "I was convinced back then, and I believe even more so now, that forgiveness is the missing piece to the peace puzzle. These study results are nothing new."
During his 35+ years of studying the virtue of forgiveness, Dr. Enright has repeatedly demonstrated that as people forgive, they become less angry, less depressed, less anxious, and more hopeful of their future. In other words, people become more peaceful within themselves, making the possibility of peace with others more likely. He outlined his grass-roots approach in this 2010 article: Forgiveness Education as a Path to Peace. Read Dr. Enright's latest blog for Psychology Today, Forgiveness as a Missing Piece to Peace Between Ukraine and Russia.
The study results about crucial elements for peace come from a team of experts that is part of the Advanced Consortium on Cooperation, Conflict, and Complexity (AC4), a multidisciplinary research institute based at Columbia University in New York City. AC4 is a unit of the university's Earth Institute which is made up of scholars spread across 35 research centers and programs encompassing more than 850 scientists, students, postdoctoral fellows and staff.
The group's mission is to employ models and methods from complexity science (a branch of applied mathematics) to study the dynamics of peaceful societies with the goal of "revolutionizing peace and conflict resolution." AC4 research has identified and studied more than 80 internally peaceful societies around the globe and identified their common characteristics including:
abundant forgiveness reservoirs that help mitigate anger, fear, and negativity; and,
higher levels of capacity for forgiveness that can lead to the endorsement of peace beliefs.
Working together with organizations like the United Nations (UN), the International Peace Institute, and The World Bank, AC4 is exploring various models (i.e., the role of forgiveness, victim memory, and reconciliation) in the actual peace process in countries like Colombia, Israel-Palestine, and Afghanistan. In the process, they are generating and promoting new practical, transdisciplinary, evidence-based approaches to peace.
Like AC4, the International Forgiveness Institute (IFI) has also collaborated with peace-seeking organizations going as far back as 1999 when Roy Lloyd, IFI Board President, was part of a delegation led by the Rev. Jesse Jackson that traveled to Belgrade, Yugoslavia (now Serbia). That delegation not only gained the release of three American soldiers captured during the Kosovo Conflict but also urged Yugoslavian President Slobodan Milosevic to accept a UN offer to establish a foreign peacekeeping force in Kosovo.
In 2014, Dr. Enright laid the foundation for "Forgiveness as a Peace Tool" at a 2-day work session hosted by the United Nations Population Fund (UNFPA) in New York City. Dr. Enright, a University of Wisconsin educational psychology professor, was named to serve on a UN international "Expert Group" that was established to begin developing intervention models aimed at ending gender-based violence around the world. Three weeks later, delegates at the United Nations Peace Conference in Geneva, Switzerland, resolved that "justice and forgiveness" are essential tools in peacebuilding.
---
"Peace is not a goal to be reached but a way of life to be lived."
Archbishop Desmond Tutu
Nobel Peace Prize-winning South African Anglican cleric;
25+ years Honorary Board Member – IFI
---
More recently, Dr. Enright last fall negotiated the establishment of the International Forgiveness Institute's newest partner, IFI-Pakistan. That Branch Office is housed at the Government College University Lahore (GCU-Lahore, Pakistan) and is the first of its kind in Pakistan and in Southern Asia. The unit will function in collaboration with the IFI with the mission of developing and disseminating forgiveness interventions and methodologies throughout the country.
"Because only a few psychologists have expertise in this field in Pakistan, we can now offer an accredited course teaching forgiveness psychology," said GCU Vice Chancellor Dr. Asghar Zaidi, in announcing the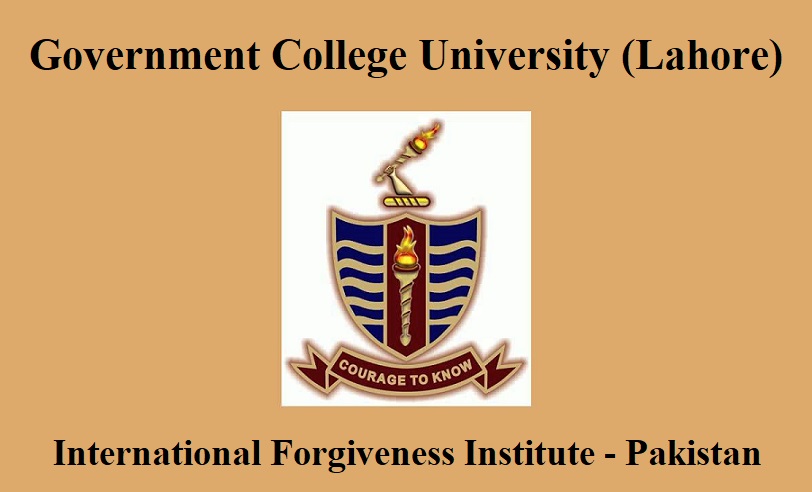 partnership. "Forgiveness liberates us from anger, resentment, bitterness, and destructive behavioral patterns that are prevalent in our society."
Dr. Enright has been working since 2016 with Dr. Iffat Batool, a GCU psychology professor, who has tirelessly pursued creation of the unit. Pakistan was one of the seven countries that conducted research and validation on Dr. Enright's new research tool, the Enright Forgiveness Inventory-30 and several of Dr. Enright's research tools have already been translated into Urdu, one of the two official languages of Pakistan (along with English). A request is also pending to get the publisher's approval to translate Dr. Enright's book 8 Keys to Forgiveness into Urdu for use with GCU's "Forgiveness Psychology and Practice" course.
Dr. Enright is also working closely with the National Director of the Liberia Forgiveness Education Program (that the IFI established 10 years ago after the country's civil war finally concluded) to implement forgiveness interventions that could help with reconciliation efforts between the various factions: Can Group Forgiveness in Liberia Lead to Peace? His peace efforts in other parts of the world are outlined on the IFI website at Peace Education Goals.
Learn More:
Please follow and like us:
Editor's Note:  Archbishop Desmond M. Tutu, the Nobel Peace Prize-winning Anglican cleric who helped end apartheid in his native South Africa, died Sunday at the age of 90. Called the "Man of Forgiveness" by The New York Times, Archbishop Tutu worked closely for many years with Roy Lloyd, President of the International Forgiveness Institute's Board of Directors. Here are Dr. Lloyd's reflections on his years with the incomparable          Archbishop Desmond Tutu.
Archbishop Desmond Tutu was a person of immense generosity, joy and courage and I was privileged to call him a friend. Desmond and I knew each other, over many years, through anti-apartheid work including sanctions against South Africa, divestment efforts and protests. I also was privileged to spend a considerable amount of time with him when he was in New York City at General Theological Seminary as a scholar in residence. Later on, when he was speaking and teaching at Emory University in Atlanta, he and I produced TV and radio spots enlisting aid for those suffering so horrifically in the Kosovo conflict. This was entirely in character. For him, caring meant acting, not just talking about it.
This was a man who stood on principle, calling out oppression of every kind, albeit with a generosity of spirit, decency and respect. Desmond believed that when people can come face-to-face with each other to speak the truth with sincerity, then it is possible to achieve closure and a more equitable outcome.
That was certainly at the heart of his leadership of the Truth and Reconciliation Commission in South Africa that brought together perpetrators of violence facing people who had been persecuted. An open atmosphere was created in which participants could confess what they had done or be candid about what they had endured. The desired result of mutual responsibility for moving forward in a more positive way was achieved by facing reality, while not denying justice. Those responsible for their actions received whatever penalty was necessary. Yet, that wasn't the end of the story. Those who were sincere in their confession were forgiven and welcomed into a higher level of meaning in interracial relationships.
It was through a commitment to these kinds of meaningful endeavors that Desmond and I became involved in the initial days of the International Forgiveness Institute. Desmond declared, at our first national conference, the message that drove his lifelong ministry: "Without forgiveness there is no future."
This is the central message of the International Forgiveness Institute (IFI).
Forgiveness is an opportunity to accept that gift for ourselves, liberating us from whatever harm we have experienced and the freedom to offer it to others. Desmond knew well that this doesn't necessarily lead to reconciliation or to the denial of justice. Those who commit harm deserve a just penalty. However, through forgiveness the equation is vastly changed. A never-ending problem of harm that challenges us can become an opportunity for growth, renewal and regeneration of life.
The Archbishop was someone who was effervescent in personality, continually joyous and always with a twinkle in his eye. This was a hero who was continually committed to walking the hard road to achieve the common good. I always found him to be looking forward rather than backward. As the saying goes, he always had his eye on the prize.
---
"If you are neutral in situations of injustice, you have chosen the side of the oppressor."
Archbishop Desmond Tutu
---
I firmly believe that Desmond Tutu provided a template for how all of us can lead a meaningful existence—one that celebrates the bonds of our humanity and grants to each we meet our thoughtfulness, consideration and esteem.
We at the International Forgiveness Institute pay homage to this marvelous man and are honored by his years of commitment to forgiveness and as an honorary IFI board member.
Roy Lloyd
President, Board of Directors
International Forgiveness Institute
___________________________________________________________________________________________________________
Endnotes:
Before his death, Archbishop Tutu had served as an Honorary Member of the International Forgiveness Institute Board of Directors for more than 25 years.
In 1995, Archbishop Tutu provided the opening remarks (by recorded audio) at the historic international forgiveness conference hosted by the IFI and held at the University of Wisconsin-Madison–the first academic forgiveness conference ever held at any university in the world.
Archbishop Tutu wrote the "Foreword" to the 1998 book Exploring Forgiveness, a collection of forgiveness essays edited by IFI-founder Dr. Robert Enright and philosopher Joanna North. That Foreword is titled "Without Forgiveness There Is No Future."
In 2014, Dr. Enright announced to IFI website followers the Tutu Global Forgiveness Challenge–a free 30-day program developed by Archbishop Tutu and his daughter Mpho Tutu, designed to teach the world how to forgive. In that article, Dr. Enright said of Archbishop Tutu: "He has lived forgiveness.  He has embodied it."
Called the "Man of Forgiveness" by The New York Times, Archbishop Tutu is the author of several books including: No Future without Forgiveness and The Book of Forgiving: The Fourfold Path for Healing Ourselves and Our World.
Read a biographical account of Archbishop Tutu's life and global activities in The New York Times or watch a biographical video at CNN News. Archbishop Tutu is survived by his wife of 66 years, Leah, and their four children.
_____________________________________________________________
About Roy Lloyd:

In addition to being the long-term President of the IFI Board of Directors, Roy Lloyd is an IFI founding director and contributing writer. He is a retired communications executive with graduate degrees in education, communications and theology. Before retiring to Springfield, MO, Dr. Lloyd was a regular commentator on all-news radio station 1010 WINS in New York City and he appeared with Desmond Tutu on Good Morning America, CNN, Religion and Ethics Newsweekly, Live with Regis and Kelly, and other programs. His high-profile career activities included his service as media officer for the Jesse Jackson trip to Belgrade in 1999 that gained the release of three American soldiers held by the Milošević regime. He has also served as executive producer of numerous network television programs and as producer and host of Public Television's "Perspectives" series. He can be contacted at: roytlloyd@gmail.com
---
Please follow and like us: