Among Hopes for the New Year: FORGIVENESS
Editor's Note: This Guest Blog was written by Roberta Baumann, Managing Editor of the Waunakee (WI) Tribune, and originally appeared in that newspaper on Dec. 31, 2020.
This past year has been so difficult that perhaps, more than any other time, we're all looking forward to its end, to starting 2021, a year filled with hope.
With the promise of a vaccine and an end to the pandemic, we hope our lives will return to normal, we can send children back to school in person, and our economy can begin to recover. 
In some ways, rather than bringing us together, COVID-19 has rendered deep divisions. Another hope for 2021 is forgiveness. 
Several years ago, University of Wisconsin social sciences professor Robert Enright spoke about this topic at a Waunakee Rotary meeting. With his examples of remarkable acts of forgiveness — cases in which a rape victim forgave the rapist, and individuals from war torn countries made peace with those who killed their loved ones — his talk was unforgettable.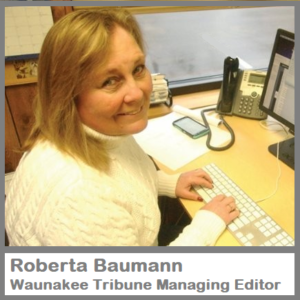 Forgiveness is not the same as forgetting. It requires empathy, recognizing the person behind the act. And it does not benefit that person who has done harm. Instead, it benefits the one holding the grudge. 
Holding onto anger increases stress and anxiety, and neither is healthy emotionally or physically. Experts say forgiveness can result in lowered blood pressure, improved mental health and even a stronger immune system. We all know how important a strong immune system is right now. 
Also, when we carry that resentment, it can spill over and affect our relationships with others. When we bring it home and say, yell at the dog, we just create stress in our families' lives and feel worse. 
Forgiveness starts with recounting the wrong you feel has been done, trying to understand the reasons behind it, and then moving on. For some, meditation or prayer helps with this process. 
One article from the Mayo Clinic suggests, "Move away from your role as victim and release the control and power the offending person and situation have had in your life."
Forgiveness is not always one-and-done; anger can resurface, and the process can start all over again. 
Forgiveness also differs from reconciliation. In some cases, the person who has done harm feels no remorse or takes no responsibility. Yet essentially, it's not about the wrongdoer, but the person who feels resentment and how harboring that feeling affects them.
As we look ahead to a year full of hope, let's do so in a way that brings greater unity and peace. We are all stronger together as a community and a nation, and we will soon face the task of healing and rebuilding from the tremendous losses we've faced in 2020.
---
"I wrote this piece during what may have been the darkest time of the COVID-19 pandemic," Baumann says. "In retrospect, I believe isolation and fear gave rise to anger — a much more empowering feeling — among many in the Waunakee community. My hope was that in 2021, divisions in the community could begin to heal." 
An award-winning writer, Baumann has been the Managing Editor of the Waunakee Tribune for 26 years. She graduated from Iowa State University with a master's degree in English. Waunakee is a village of 15,000 residents just outside Madison, WI.
Please follow and like us:
Categories: Forgiveness News, IFI News, News